1. Introduction
The five-axis linkage machine tool can complete the pentahedron processing of the workpiece through one clamping of the workpiece, which is especially suitable for the flexible production needs of many varieties and small batches. The application of the five-axis intelligent flexible line will greatly change the number of compressor beds, change the traditional manufacturing mode, and realize the production method of replacing one production line with one machine tool. This not only improves processing efficiency, reduces the plant footprint, but also reduces equipment operation and maintenance personnel. The five-axis intelligent flexible line has the advantages of adapting to the variability of parts, reducing manufacturing costs, optimizing the operating efficiency and quick response of the manufacturing system, so as to effectively improve the manufacturing capacity and competitiveness of the enterprise.
The flexible line of the five-axis linkage machine tool is mainly composed of a five-axis linkage machining center, a handling robot, visual monitoring and detection, a quick-change fixture, and an automatic feeding system. The production line can be equipped with workpiece detection, tool detection monitoring, workpiece deburring and other devices to achieve the whole process of workpiece from blank to finished product. Through dynamic information collection of flexible lines, networked and informatized management of the production process, it is possible to realize the interconnection with the workshop management system and establish a digital management platform, thereby creating an intelligent, networked and flexible smart factory.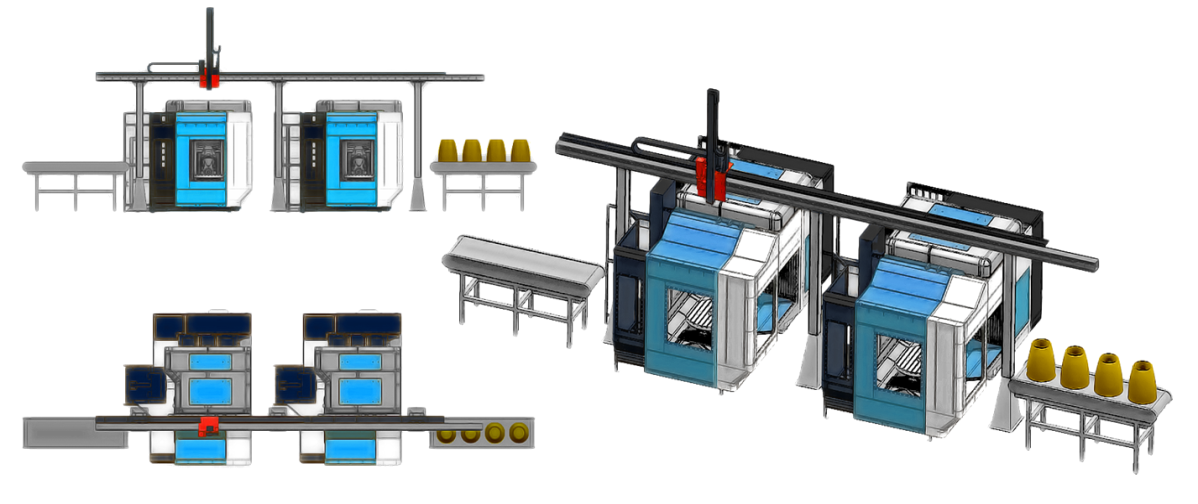 Our company can provide the industry's overall solutions and turnkey projects according to the needs of customers.