1. Introduction of the Machine Tool
The SHW model is a spindle vertical conversion five-axis linkage machining center. The standard configuration of the machine tool is Dr. HEIDENHAIN's iTNC530 CNC system, supplemented by Dr. HEIDENHAIN's grating scale, which realizes the full closed loop of the machine tool. At the same time, the use of high-power servo motor and torque motor direct drive makes the machine tool have features of high positioning accuracy (according to German VDI/DGQ3441 standard), fast response speed (acceleration 5m/s2) and five-axis linkage processing.At the same time, the machine is equipped with an automatic tool changer, which fully embodies efficient and automated machining.
Left and right movement of the skateboard (X axis), front and rear movement of the table (Y axis), up and down movement of the headstock (Z axis), rotation of the table (C axis) and rotation of the milling head (B axis), making the five-axis linkage of machine tool is achieved.The entire machine consists of the bed, column, slide, rotary table, milling head, pneumatic system, automatic lubrication system, chip cooling system, electrical system and fully enclosed protection system.
The machine is equipped with an imported electric spindle, which has the function of central water discharge, which can realize the automatic loosening knife and broach of the spindle.The three linear feed axes of X, Y and Z of the machine tool adopt servo motor, and the ball screw is rotated by the synchronous leather belt. The B-axis rotation adopts the servo motor to drive the mechanical deceleration mechanism, and the C-axis rotation adopts the servo motor to drive the worm gear and worm, which makes the transmission system have high motion precision and transmission rigidity.
The main purchased parts of the machine tools are equipped with water-cooled machines, cutting fluid paper belt filters, chip conveyors and iron scrapers. At the same time, the machine tool can be equipped with various automatic measuring devices, fixtures and tools according to the needs of users, thus achieving the turnkey project of the machine tool.
2. Technical Parameters of Machine Tool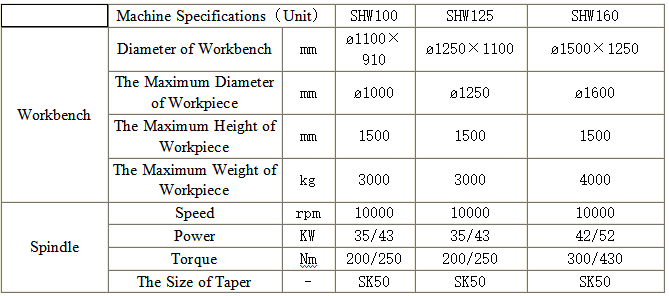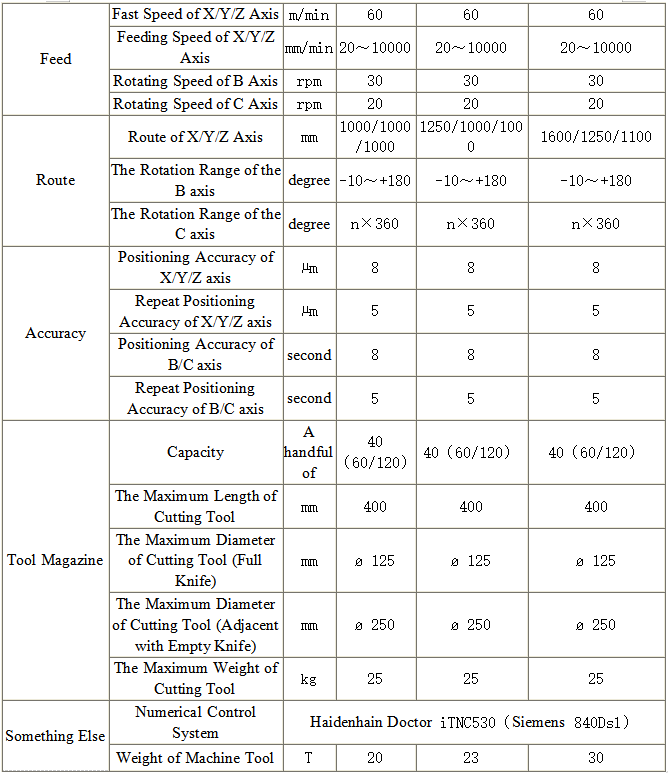 3. Structure diagram of the Machine Tool